Pawhuska business owners, residents, and other interested parties; here are the top statistics and facts for Pawhuska, OK tourism online in 2019.
Let's look at the 2019 numbers, and then see how much we can grow in 2020!
Pawhuska Local Tourism Online: Top 10 Statistics and Facts of 2019
All numbers gathered Dec. 30-31, 2019. No specific order of importance.
(Definition Google Trends: Interest over time – Numbers represent search interest relative to the highest point on the chart for the given region and time. A value of 100 is the peak popularity for the term. A value of 50 means that the term is half as popular. A score of 0 means there was not enough data for this term.)
#1. "Pawkuska" search term under the category Travel – Interest Peaked week of Aug. 18-24, 2019 according to Google Trends.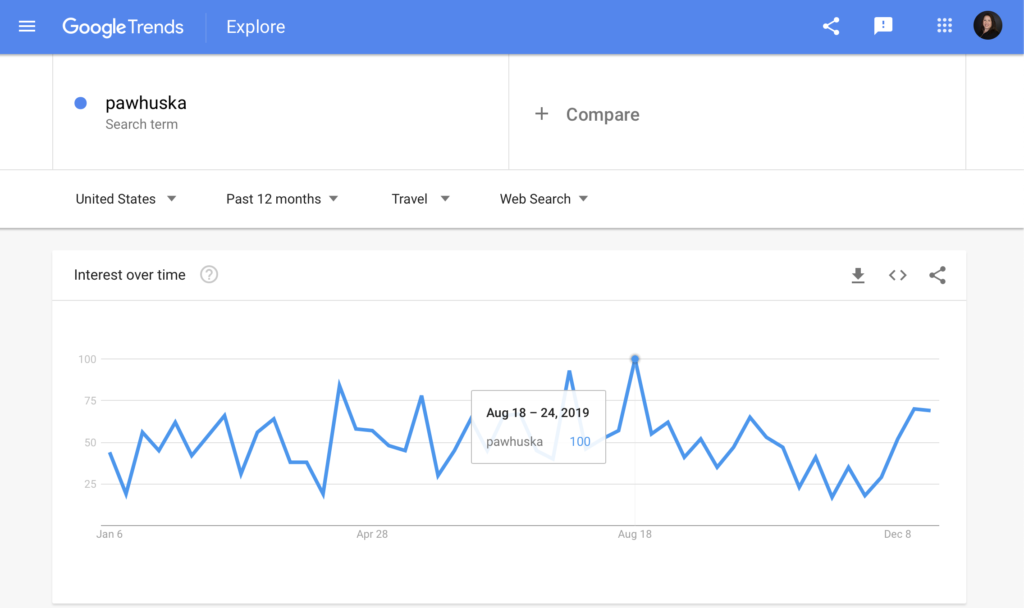 ---
#2. "Pioneer Woman" as a general search term peaked Nov. 24-30, 2019. It was much lower throughout the year, except for peaks during the months of November and December, according to Google Trends.
---
#3. "Oklahoma" search term under the category Travel – Peaked May 19-25, 2019. This spike was significantly higher than the rest of the year, according to Google Trends.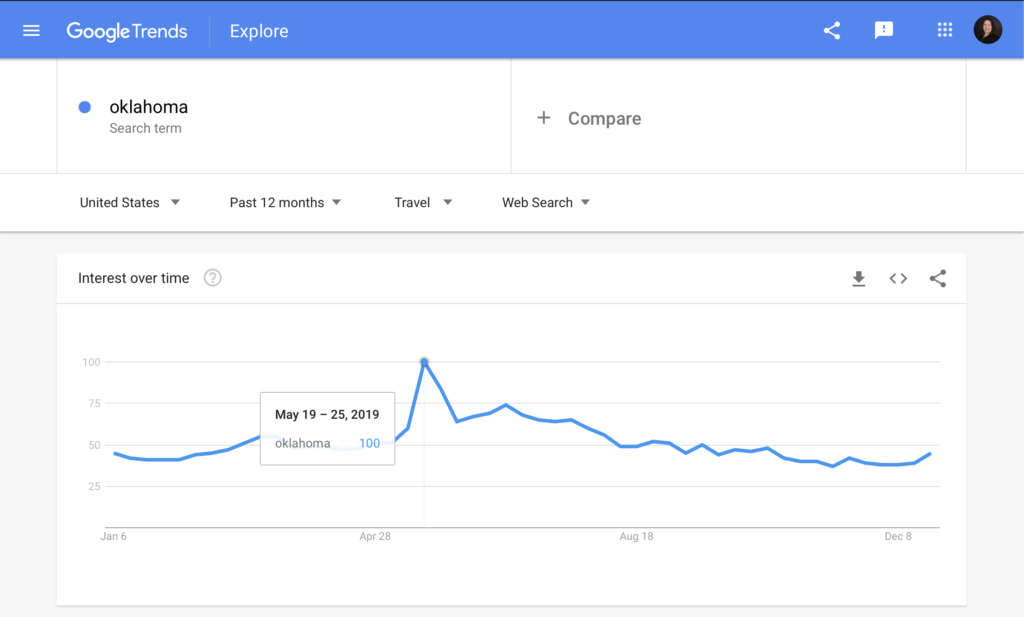 ---
#4. Pawhuska Chamber of Commerce Social Media by the numbers;
3,668 Facebook Followers

and

755 Instagram Followers.
---
#5. Visit the Osage Social Media by the Numbers
; 26,275 Facebook Followers

and

1,785 Instagram Followers.
---
#6. TravelOK.com (State Tourism Website) Social Media by the numbers;
363,988 Facebook Follower

s and

50.4k Instagram Followers

.
---
#7. The Mercantile Social Media by the Numbers;
430,805 Facebook Followers

and

613k Instagram Followers.
---
#8. Hashtag #Pawhuska on Instagram –
13,733 posts

on Instagram.
---
#9.

Seven (7)

– The number of Shopping Businesses on TravelOK.com for Pawhuska. See the screenshot below for more categories and listing numbers.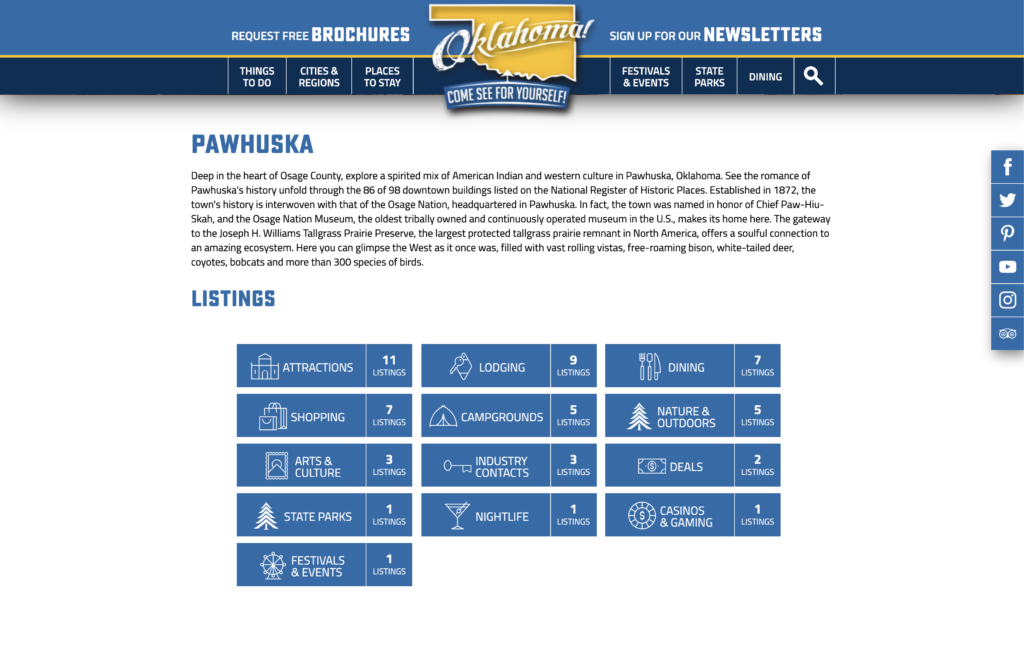 ---
#10. Number of Pawhuska businesses on TripAdvisor.com;
Things to Do -15

,

Lodging – 9

,

Restaurants – 17

,

Vacation Rentals – 5

, and 2,447 Reviews and Reactions from TripAdvisor.com users.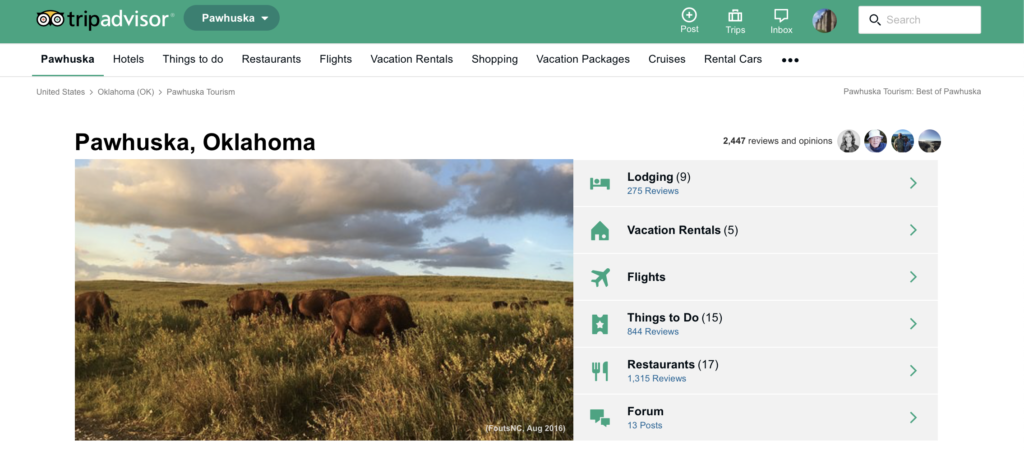 ---
Google Search Trend for Pawhuska over the Past 5 Years
Now, let's use this free tool Google Trends to look at the trend of searches for Pawhuska, in the "Travel" category over the past 5 years.
Pawhuska vs. Bartlesville Google Trends
Screenshot of Trends over the past 5 years. Click here for the live, clickable version of this Search Term comparison.
Takeaways
After intently researching the presence of local businesses online, there is enormous room for growth on platforms outside of Facebook! 
Anecdotally, it appears that a massive percent of Pawhuska businesses have Facebook pages, but don't have websites, Instagram account, maintained Google Business Listings, or are utilized top travel platforms like TravelOk.com and TripAdvisor.
While Facebook had trended in previous years for opportunities for social media marketing, the platform has grown saturated and has plateaued for those who aren't paying ads. See the fantastic infographic below for why businesses should embrace Instagram over Facebook.
While there is no doubt that Facebook is massively vital to tourism and local marketing, for the long term health of the tourism industry in Pawhuska, there needs to be a digital revolution! A new wave of Pawhuska businesses adding Instagram as a core social media platform will help drive tourism as a whole.
If you want a personal assessment and plan for your businesses, email me katherine@disobedientwoman.com. I have years of experience in digital marketing for companies in the tourism industry.